Profil des Patientes opérées à l'Hôpital Général de HEAL AFRICA et à l'Hôpital Général de Référence de BÉNI, Province du Nord Kivu, République Démocratique du Congo.
The objective of this study was to determine the holistic profile of the women operated for gynecological complications that are the fistulas and the prolapses. Methodology: It was a descriptive, cross sectional and documentary survey that adopted the quantitative approach, on 63 women operated at the General Referral hospital of HEAL AFRICA and the General Referral hospital of BENI; from February to March 2016 after the surgical campaign organized by the hospital HEAL AFRICA organization. Results: The middle age of operated women was of 45, 5 years. 63, 5% among them had low-level of instruction, living in the rural (54%); Catholic religion (47, 6%), married (42, 9%), agriculturists (71, 4%) with a monthly income of 50 to 99 US$ (39, 7%). The mean numbers of pregnancies contracted by these women were 6 to 7 pregnancies. Most of the pregnancies (71, 4%) didn't precede the fistula or the prolapse and after the treatment, 96, 8% of operated women didn't conceive anymore. The delivery mode was normal (73%). In more case, the parents were invested in the childbirth of operated women (23, 8%). The childbirth finished by the birth of healthy children (71, 4%). With regard to the illness and the antecedents of operated women, 68,3% of case of the fistulas and 31,7% of the cases of prolapse were identified without surgical antecedents in the past (87,3%). The evoked reason was the normal childbirth (50%). The consequences of these pathologies were the lack of jobs (57, 1%) and the recurrent urinary infections (50, 8%). The observed change was the low income level after the treatment of the illness (46%). With regard to the therapeutic profile, main source of information for the treatment was the broadcasted information (25, 4%). The reason of delay to the consultation was the lack of the poverty (39, 7%). The sanitary animators (27%) motivated the operated women to consult for the treatment; whereas the follow-up and the accompaniment were done by the sisters and brothers of the victim (27%). The technique Intervention the more practiced was the simple suture (50, 8%), by passing through the vagina without episiotomy (26%). The dominant result was the continence with the closing of the lesion (96, 8%). In post - operative, the hospitalization was less than one month (87, 3%), the antibiotherapy after surgical intervention was used (87, 3%) and the patients were satisfied (77, 8%).
L'objectif de cette étude était de déterminer le profil holistique des femmes opérées pour des complications gynécologiques dont les fistules et les prolapsus. Méthodologie : Il s'agissait d'une étude descriptive, transversale et documentaire qui a adopté l'approche quantitative, menée auprès de 63 femmes opérées à l'hôpital Général de Référence de HEAL AFRICA et à l'hôpital Général de Référence de BENI, de février à mars 2016 après les campagnes de chirurgicales organisées par l'hôpital HEAL AFRICA. Résultats : L'âge moyen des opérées était de 45,5 ans. 63,5% d'entre elles étaient de bas niveau d'instruction, habitant les milieux ruraux (54%) ; de religion catholique (47,6%), mariées (42,9%), agricultrices (71,4%) avec un niveau de revenu mensuel de 50 à 99$ (39,7%). Le nombre moyen des grossesses contractées par ces femmes était de 6 à 7 grossesses. La plupart des grossesses (71,4%) n'ont pas précédé la fistule ou le prolapsus et après la réparation, 96,8% des opérées n'ont plus conçu. La voie d'accouchement était basse (73%). En plus, ces sont les parents qui sont investis dans l'accouchement des opérées (23,8%). L'issue de l'accouchement était la naissance des enfants vivants et sains (71,4%). En ce qui concerne la maladie et les antécédents des opérées, 68,3% de cas des fistules et 31,7% des cas de prolapsus ont été identifiés sans antécédents chirurgicaux dans le passé (87,3%). La cause évoquée était l'accouchement par la voie basse (50%). Les conséquences de ces pathologies étaient le manque d'emplois (57,1%) et les infections urinaires récurrentes (50,8%). Le changement observé était le niveau de revenu bas après la survenue de la maladie (46%). En ce qui concerne le profil thérapeutique, source principale d'information pour le traitement était les communiqués radiodiffusés (25,4%). La cause du retard de consultation était le manque des moyens (39,7%). Les animateurs sanitaires (27%) ont motivé les femmes opérées à consulter les soignants ; alors que le suivi et l'accompagnement étaient assurés par les sœurs et frères (27%). L'intervention la plus pratiquée est la suture simple (50,8%), avec la voie d'abord vaginale sans épisiotomie (26%). Le résultat dominant était la continence avec la fermeture de la lésion (96,8%). En post- opératoire, l'hospitalisation de moins d'un mois (87,3%), l'antibiothérapie post- opératoire a été utilisée (87,3%) et un sentiment de grande satisfaction (77,8%).
Fichier principal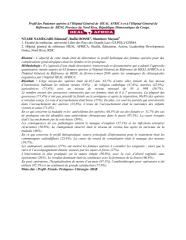 Profil des Patientes opérées à l'Hôpital Général de HEAL AFRICA et à l'Hôpital Général de Référence de BÉNI, Province du Nord Kivu, République Démocratique du Congo.pdf (435.06 Ko)
Télécharger le fichier
Origin : Files produced by the author(s)