Disparités et variabilités des catastrophes démographiques en URSS
A large literature is now devoted to the demographic crises, experienced by the USSR between 1920 and 1947. This literature more often attempts to make a global estimate of the losses of the soviet people. In this article, we present a more precise overview of such approaches, putting the stress on the geographic disparities and the important contrasts between generations, led by these crises. For this aim, in a first part, the censuses and their comparison with incomplete data of the civil registration lead us to present a regional geography of demographic crises. Such a reconstruction is therefore used as a basis of a comparison between soviet crises and those experienced during the XIX century Russian Empire. In a second part, the different age structures presented in the 1897 to 1989 censuses are corrected to obtain exact annual age structures. The uses of a specific statistical method helped us to give precise reconstructions. It is therefore possible to describe in detail the future of all the generations who have experienced these critical years. Moreover, our reconstruction gives the indispensable basis of a critical study on the soviet demographic dynamic reconstitution, which have been done by rather different authors. It finally gives interesting precision on the last trends, and, especially, on the degradation of infant mortality from the 70ies.
Une large littérature est aujourd'hui consacrée aux crises démographiques qu'a connues l'URSS entre 1920 et 1947. Cette littérature porte le plus souvent sur une estimation globale des pertes subies par la population. Dans cet article nous affinons ces approches, en mettant l'accent sur les disparités géographiques et les profonds contrastes entre générations induits par ces crises. Pour ce faire, les recensements et leur confrontation avec les données lacunaires de l'état civil nous ont permis de présenter la géographie régionale des crises démographiques. Cette reconstitution conduit à confronter les crises soviétiques et celles qui ont frappé l'Empire russe durant tout le XIXème siècle. Dans une seconde partie, les divers structures par âge issues des recensements de 1897 à 1989 ont été corrigées pour obtenir des pyramides des âges annuels correctes. L'utilisation d'une méthode statistique spécifique nous a permis d'arriver à des reconstitutions fines. Il est possible alors de décrire en détail le devenir de toutes les générations qui ont vécu ces périodes de crises. De plus ces reconstitutions don­nent la base indispensable a une étude critique des reconstitutions de la dynamique démographique soviétique de la première moitié du XXème siècle. Elles fournissent enfin des indications intéressantes sur les évolutions récentes, et en particulier sur la dégradation de la mortalité infantile à partir de 1970.
Fichier principal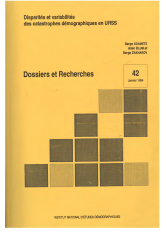 Dossiers et Recherches_No.42_1994.pdf (10.6 Mo)
Télécharger le fichier
Origin : Files produced by the author(s)