Étude de l'impact et la valeur ajoutée de la recherche électronique sur les productions scientifiques des universités de l'est de la République démocratique du Congo
Summary Communication and information technology creates a new form of acces to knowledge through internet. In universities as well as in research centers theses access to information bring new practices in research and new document formats called electronics. The objective of this dissertation is to study the use of electronic documents and their effect on teachers research in the Eastern Democratic Republic of Congo unniversities in a purely numerical context. The first part presents the concept of the research theorical foundation. Then it deals with the research methodology used to analyse the data collected. In the second part, the context of the study is presented, then an evaluation of electronic research practices used in universities in Beni and Butembo areas. This is followed by the presentation of the survey's results. This second part also presents the challenges we faced in carrying on this research, the recommandations and the new perspectives.
RÉSUMÉ Les Technologies de l'information et de la communication (TIC) créent une nouvelle forme d'accès aux connaissances grâce à l'internet. Dans les universités comme dans les centres de recherche, ces autoroutes d'information apportent des nouvelles pratiques de recherche et des nouveaux formats de documents dits électroniques. Ce mémoire a pour objectif d'étudier les pratiques d'usage des documents électroniques et leur répercussion sur les recherches des enseignants au sein des universités de l'est de la République démocratique du Congo (RDC) dans un contexte purement numérique. La première partie présente dans un premier temps le cadre conceptuel, c'est-à-dire, l'établissement des fondements théoriques de l'étude ou encore, la construction de l'objet de la recherche. Dans un second temps, elle présente le cadre méthodologique, c'est - à - dire la méthode utilisée pour analyser les données et les techniques de collectes des données. Dans la seconde partie, il s'agit de faire une présentation du milieu d'étude, d'évaluer les pratiques de la recherche électronique en usage dans les universités de Beni et de Butembo et procéder à la présentation des résultats des enquêtes. Cette seconde partie présente aussi les difficultés rencontrées pendant la réalisation de ce travail, les recommandations ainsi que les perspectives.
Fichier principal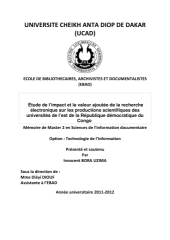 Memoire_de_M2.pdf (2.26 Mo)
Télécharger le fichier
Origin : Files produced by the author(s)