La MONUSCO face aux enjeux politiques du moment
Misconception and sometimes wrong knowledge of the role of the United Nations' Organization Mission in Congo (MONUSCO) during the incidents makes some compatriots, face to a complex situation like the one that happened in Goma in November 2012 with the invasion of M23, in which many Congolese people were probably involved, not hesitate to accuse this Mission of the UN Organization of being the true/wrong author of these incidents without thinking about their mandate. The ignoring and under informed population consider the facts just the way they are presented to them and come up with conclusions that end up becoming unanswerable theses on the role of MONUSCO in the crisis that shakes the eastern part of the Democratic Republic of Congo. All this confusion is often due to misconception of the role of that mission at different stages. Realistically it is demonstrated that there would be a true concern on communication around topics about MONUSCO in its tasks of support to national institutions for the stabilization of the DRC. In spite of having a public information service in all territories where its antennas are found and in spite of 14 years of existence in this country, what people know about MONUSCO seems to remain the same relatively to its image.
La connaissance insuffisante et parfois erronée du rôle de la Mission de l'organisation des Nations Unies au Congo (MONUSCO) lors des incidents fait que certains compatriotes, face à une situation complexe comme celle vécue à Goma en Novembre 2012 avec l'entrée du M23, et dans laquelle les congolais seraient en grande partie responsables, n'hésitent d'accuser cette Mission de l'ONU d'en être le vrai/faux responsable sans se poser la question sur son mandat. La population ignorante et sous informée, malheureusement, considère les faits tels qu'ils lui ont été présentés et procède à des conclusions qui deviennent par la suite des thèses irréfutables sur le rôle de la MONUSCO dans la crise qui secoue l'est de la RD Congo. Toute cette confusion est très souvent liée à la mauvaise interprétation du rôle de cette mission à différents niveaux. La réalité démontre qu'il se poserait un vrai problème de communication autours des sujets qui concernent la MONUSCO dans ses taches d'appui aux institutions nationales pour la stabilisation de la RDC. Bien qu'elle dispose d'un service d'information publique dans tous les territoires où ses antennes sont installées et malgré 14 années de présence dans le pays, le nuage semble demeurer par rapport à son image.
Fichier principal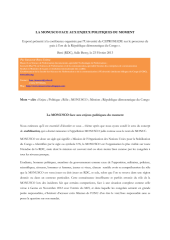 ExposA_de_la_confA_rence_organisA_e_par_l_UniversitA_du_CEPROMAD.pdf (93.57 Ko)
Télécharger le fichier
Origin : Files produced by the author(s)