DÉCISION POLITIQUE ET ARTICULATION BUREAUCRATIQUE : LES DÉPORTÉS LITUANIENS DE L'OPÉRATION « PRINTEMPS » (1948)
This article analyzes the mechanisms implemented during Stalin's deportations that affected the Western regions of the USSR annexed for the first time after the Molotov–Ribbentrop Pact of August 1939, then after the Second World War. It especially addresses the bureaucratic articulation, involving various bodies, repressive, political or administrative, which helps us to understand the scale of the process and its nature. This bureaucratic articulation, operating through processes of varied case-working, and following a repetitive and mechanical logic, combined with a quasi-military organization of forced displacements, since everything is planned on paper, produced the massive scale of these operations. These processes are discussed here because they lead to mass action and also because they involve specific links between the individual and the collective. They are studied on the example of a mass operation in Lithuania, called "Spring" by Soviet authorities, which begins by being prepared since mid-February 1948 and is completed during two days in mid-May of the same year. 12 000 families (about 40 000 people) are then deported to Siberia. This article uses various sources : archival documents, extremely precise and rich, helpful to understand the mechanisms, are combined with oral sources, a collection of testimonies from people who experienced these deportations. These testimonies have been collected in the frame of a large collective project devoted to all the Stalin's deportations carried out from Central and Eastern Europe and the Western territories of the USSR between 1939 and 1953.
Cet article s'intéresse aux mécanismes à l'oeuvre lors des déportations staliniennes qui touchèrent les régions occidentales de l'URSS, annexées une première fois à l'issue du pacte germano-soviétique d'août 1939, puis à l'issue de la Seconde Guerre mondiale. Il porte tout particulièrement sur les enchaînements de nature bureaucratique, impliquant diverses administrations qu'elles soient répressives, politiques ou gestionnaires. Cette articulation bureaucratique, enchaînement d'opérations de traitements de dossiers, d'ordres divers, suivant une logique répétitive et mécanique, combinée avec une organisation ponctuelle de nature quasi-militaire pour mettre en oeuvre les déplacements, une fois que la machine bureaucratique a tout organisé sur le papier, produit le caractère massif d'opérations de répressions. Ces processus sont ici examinés en ce qu'ils permettent une action de masse mais aussi pour les conséquences qu'ils induisent en termes de mise en relation de l'individuel et du collectif. Ils sont étudiés à partir de l'exemple d'une des grandes opérations menées en Lituanie, dénommée « opération Printemps », qui commence à être préparée à partir de la mi-février 1948 pour être menée, en deux jours, à la mi-mai de la même année. 12 000 familles (environ 40 000 personnes) sont alors déportées en Sibérie. Les sources qui fondent cette étude sont diverses, sources d'archives, extrêmement précises et riches, qui permettent de comprendre l'ensemble des mécanismes, auxquelles sont combinées des sources orales, recueil de témoignages de personnes ayant vécu ces déportations, collectés dans le cadre d'un large projet collectif portant sur l'ensemble des déportations staliniennes effectuées en Europe centrale et orientale et dans les territoires occidentaux de l'URSS, entre 1939 et 1953.
Fichier principal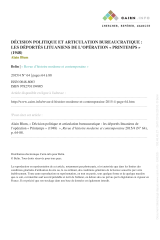 RHMC_624_0064 (1).pdf (1.7 Mo)
Télécharger le fichier
Origin : Publisher files allowed on an open archive