Urea supergranule effect (USG) in paddy soils; A diffusion-exchange problem. Development of a model.
L'effet supergranule d'urée (SGU) en sols de rizières : un problème de diffusion avec échange d'ions. Essai de modélisation
Deep-placed between 4 hills of wetland-rice, urea supergranules (USG, sometimes called LGU, large urea granules) present in numerous situations a high efficiency due to the occurrence of negligeable losses (runoff, NH3 volatilization, nitrification-denitrification) and another mechanism associated with minimal dispersion of nitrogen in the soil. For non-percolating paddy soils with uniform porosity and density, nitrogen dispersion from supergranule is only a diffusion-ion exchange phenomenon. Built upon three main assumptions (point souce, local equilibrium of ammonia, no ammonium retrogradation in clay minerals), the model uses a few parameters (soil density and porosity, mean apparent diffusion coefficient for nitrogen, time for full urea hydrolysis, modified adsorption isotherm) and a calculus algorithm which enable to simulate the evolution of ammonia distribution in the soil or its solution. It agrees with experimental data collected on different soils. At last, two sets of observations : - contour plos showing distribution patterns of ammonia, from Savant and De Datta (1980), - simultaneous pH and ammonia mesurements on solution extracted with a sampler near the USG show that USG-effect is mainly due to NH3 toxicity upon 0,45 mM. Therefore, geometrical factors (placement in the reduced layer of the soil, supergranule form), soil (exchange) and fertilizer (alcalinity from urea hydrolysis) properties associated with NH3 toxicity for rice enable its feeding at request.
Placés en profondeur entre 4 touffes de riz irrigué, les super-granules d'urée (SGU) présentent dans beaucoup de situations une efficacité remarquable due à la quasi-élimination des pertes (écoulement superficiel, volatilisation ammoniacale, nitrification-dénitrification) mais aussi à un autre facteur associé à la dispersion minimale de l'azote dans le sol. Dans le cas de rizières non filtrantes et à profils de porosité et densité uniformes, la dispersion de l'azote à partir du super-granule se ramène à de la diffusion avec échange d'ions. Le modèle développé à partir de 3 hypothèses (source instantanée et ponctuelle, équilibre local de l'ammoniaque, pas de rétrogradation de l'ammonium dans les argiles) utilise plusieurs paramètres (densité et porosité du sol, coefficient global apparent de l'azote, durée d'hydrolyse totale, isotherme d'adsorption adossée sur le pH déduit de l'équilibre local NH3/NH4+/HCO3- généré par l'hydrolyse de l'urée) et un algorithme de calcul qui permettent de simuler l'évolution de la distribution de l'ammoniaque dans le sol ou sa solution. Elle est en bon accord avec les données expérimentales obtenues sur différents sols. Enfin, deux ensembles d'observations : - les courbes d'iso-concentration en ammoniaque obtenues par Savant et De Datta (1980); - une mesure conjointe de pH et de l'ammoniaque sur la solution obtenue par un préleveur situé au contact du SGU permettent d'attribuer essentiellement l'effet-SGU à une toxicité de l'ammoniac NH3 au-dessus de 0,45 mM environ. Ainsi, différents facteurs géométriques (placement dans la couche réduite du sol, forme super-granule), différentes propriétés du sol (échange) et de l'engrais (alcalinité générée par l'hydrolyse de l'urée) permettent-ils au riz grâce à la toxicité de l'ammoniac de prélever l'azote du SGU à la demande.
Fichier principal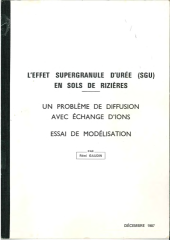 L'effet supergranule d'uree (SGU) en sols de rizière_compacté.pdf (16.05 Mo)
Télécharger le fichier